Warranty

Purchasing from an Authorised dealer like Excel Hi-Fi, means you are purchasing more than just a great product, you are purchasing peace of mind. This ensures you, the customer, are being sold genuine products from dealers that understand those products.

All of our product is designed and manufactured to the highest standard to ensure quality and audio reproduction so that your purchase provides you with many years of enjoyment. To ensure you get the best from your product, please read the owners manual before you switch it on.

Should you have any problems within the warranty period, please contact the appropriate dealer or Excel Hi-Fi for your nearest authorised service center for tech support.

Brands & Product Categories

All our product comes with Australia Wide Manufacturer's Warranty as per the terms and conditions of the supplier. Please be aware that LIMITED WARRANTY is offered on refurbished/re-packaged stock.

YAMAHA AUSTRALIA

PRODUCT

NEW

REFURBISHED

AV Receivers, Speaker & Subwoofers, Hi-Fi Components, Blu-Ray Players

2 YEARS

1 YEAR

Aventage Receivers

4 YEARS

2 YEARS

AV Accessories

1 YEAR

6 MONTHS

ONKYO

| | | |
| --- | --- | --- |
| PRODUCT | NEW | REFURBISHED |
| All A/V | 3 YEAR | 3 YEA |

PRO-JECT (Interdyn)

| | | |
| --- | --- | --- |
| PRODUCT | NEW | REFURBISHED |
| Turntables | 2 YEAR | 6 MONTHS |

WHARFEDALE (AVR - Audio Visual Revolution)

| | |
| --- | --- |
| PRODUCT | NEW |
| Loudspeakers | 5 YEARS |
| Subwoofers | 3 YEARS |

QED (AVR - Audio Visual Revolution)

| | |
| --- | --- |
| PRODUCT | NEW |
| Cables | Lifetime |
| uPlay Plus Series | 1 YEAR |

KEF, REVEL, ELAC (Advanced Audio Australia)

PRODUCT

NEW

Speakers

5 YEARS

Passive Products eg. Speaker Components

1 YEAR

Electronics

NOTE: Subwoofers contain passive elements and active electronic elements

What is and is not covered?

This Warranty covers all defects in workmanship for the duration of the product warranty and is additional to the protection offered by law.

All labour and materials are covered under this warranty, provided the repairs are carried out by an authorised service centre.

This warranty does not cover damage caused by accident, negligence, misuse, abuse, improper operation, fluctuations in electrical current, damage from unauthorised repairs other than those repairs carried out by an authorised service centre.

Any product where the serial number has been removed, modified or defaced are not covered by this warranty.

Freight and removal/installation costs are not covered by this warranty.

Units may not include operating manuals & accessories. Quality of the cosmetic finish is also excluded from warranties, including chassis, panels, cabinet, buttons and knobs.

What you must do to obtain Warranty Service

Should your equipment require warranty service, it must be delivered to an authorised service center, complete with your purchase receipt.

Click on Supplier/Manufacturer below for details on technical support and where to find your authorised, local service center. Alternatively you can contact Excel Hi-Fi on (03) 9702 3399 or at sales@excelhifi.com.au for any assistance you may require.

Amber Technology

In making a claim under this warranty, you agree that if, following receipt of your claim under this warranty, the dealer or its authorised service centre determine that your claim in respect of a product is invalid or you have provided false, inaccurate or misleading information with your claim, the dealer or its authorised service centre may charge you for any labour, parts or transport costs incurred.

Warranty on this product is not applicable outside of the country of purchase.
Massive clearance sale, all stock in as new condition with manufacturers warranty.
Don't miss out!
Immersive Listening Pleasure
Vast soundscape. Soak in it
World's first use of DTS Virtual:X*. 3D surround as you've never heard before. Just this one device gives you sound coming down from the ceiling — such as the sound of rainfall from the sky or a spaceship flying overhead. Soak in the immersive, stunning presence of your favourite movies, concert videos and games — as if you're really there!
* In-house research (as of May 2017). DTS Virtual:X firmware update available August 2017 (via USB).
** Even if your sources are not compatible with 3D surround, a special "Up-mix" function provides enhanced multi-dimensional presence.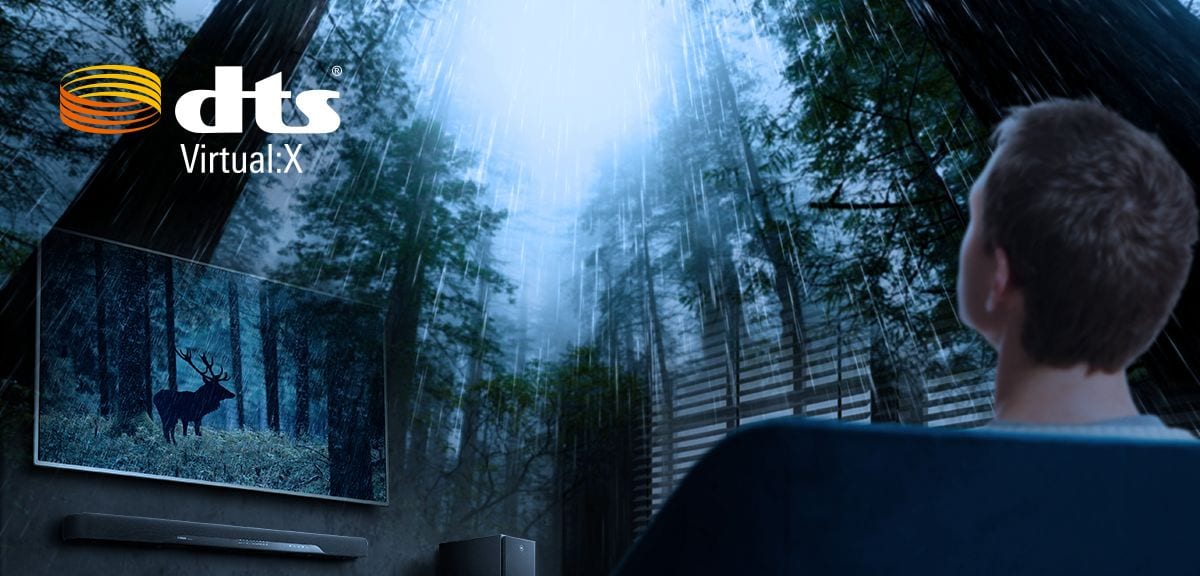 Hard to hear the dialog?
No more. With the YAS-207, you can hear it all. Fully dynamic, exceptionally clear sound — with a simple connection. What's more, a Clear Voice function brings the sound of narration and dialogue to the forefront, while keeping the overall sound quality intact. Movies, TV shows, sports commentary, news casts — all instantly more clear and audible.
Body-shaking bass
Bass to move you, and keep you moving! Powerful, profound movie theatre sound — right in your home. Since the YAS-207 system includes an external subwoofer, enjoy the explosive sounds of action movies and the electrifying atmosphere of concert videos — and make your home entertainment more exciting than ever.
Wireless, Ultimate Simple
Perfect blend. Your style, your room
Just 60 mm (2-3/8") high, the centre unit can fit in front of your TV, and never obstruct your view. Plus, you can attach it to a wall using the keyholes, and get amazingly great sound in a slim package — a perfect match for your TV, whatever the installation.
* Included attachment template makes it extremely easy to position the screws for installation.

Easy Connection, Infinite Fun
Stunning sound from palm of your hand
Stream your favourite music right from your smartphone, with true high-quality wireless performance. The YAS-207 automatically enhances the high-end of compressed music sources (such as MP3) and deepens the mid-to-low ranges — giving you exceptionally vivid and warm sound of quality approaching the original.
Say good-bye to complexity
A simple HDMI connection is all you need for your TV and Blu-ray Disc™ player. Open the box, put the YAS-207 where you want, and connect the cables. Clean. Fast. Easy.
* HDMI cables sold separately
Just one remote
If your TV is compatible with HDMI-CEC, you can turn the power on / off, switch inputs, adjust the volume and easily perform other operations in combination with the TV — with just a single remote.
Fingertip control
If you need to go deeper, there's a HOME THEATER CONTROLLER app, giving you smart operability in a beautiful, intuitive, and easy-to-understand design. Select the content you want to play, fine-tune the sound quality, as well as turn the system power on and off — all with convenient fingertip control from your smartphone.

Packed with Other Useful Features
Advanced HDMI interface
The HDMI interface of the YAS-207 delivers the best of both audio and video — supporting high-resolution 4K / 60p video signals, letting you enjoy the full, gorgeous quality of HD without degradation. It's also compatible with HDR (High Dynamic Range), giving you vividly colourful and richly natural picture quality.
Five surround modes
With the use of a special app, you can get optimum sound settings for five different sound modes, each programmed specifically to enhance what you're watching: TV programmes, movies, music, sports and games.
Wireless subwoofer
The YAS-207 also features a slim subwoofer. Thanks to the wireless connection, it fits cleanly and unobtrusively in any room, in any location. Put it in place, power it up, and enjoy truly dynamic, deep bass.
Specs
Front Surround System
General
Output Power
(Front L/R) 30 W + 30 W (6 ohms, 1 kHz, 10 % THD) (Subwoofer) 60 W (3 ohms, 100 Hz, 10 % THD)
Power Consumption
22 W
Standby Power Consumption
0.4 W
Subwoofer
Dual 7.5 cm cone
Dimensions (W x H x D)
890 X 131 X 59 mm (with spacer); 890 X 53 X 131 mm (without spacer)
Weight
4.0 kg
Input / Output
Digital Optical
1 in
Digital Coaxial
1 in
Analog Audio
1 in (Stereo mini)
Sound Technology
Surround Technology
AIR SURROUND XTREME
Bass Extended
Yes
Audio Formats
Dolby Digital
Yes
Dolby Pro Logic II
Yes
Connectivity
Wireless Music Streaming
Yes (with Bluetooth)
Bluetooth Version/Profile
Ver. 2.1 + EDR (A2DP, SPP)
Other Features
App Control
Yes
Learnig Function
Yes