Warranty

Purchasing from an Authorised dealer like Excel Hi-Fi, means you are purchasing more than just a great product, you are purchasing peace of mind. This ensures you, the customer, are being sold genuine products from dealers that understand those products.

All of our product is designed and manufactured to the highest standard to ensure quality and audio reproduction so that your purchase provides you with many years of enjoyment. To ensure you get the best from your product, please read the owners manual before you switch it on.

Should you have any problems within the warranty period, please contact the appropriate dealer or Excel Hi-Fi for your nearest authorised service center for tech support.

Brands & Product Categories

All our product comes with Australia Wide Manufacturer's Warranty as per the terms and conditions of the supplier. Please be aware that LIMITED WARRANTY is offered on refurbished/re-packaged stock.

YAMAHA AUSTRALIA

PRODUCT

NEW

REFURBISHED

AV Receivers, Speaker & Subwoofers, Hi-Fi Components, Blu-Ray Players

2 YEARS

1 YEAR

Aventage Receivers

4 YEARS

2 YEARS

AV Accessories

1 YEAR

6 MONTHS

ONKYO

| | | |
| --- | --- | --- |
| PRODUCT | NEW | REFURBISHED |
| All A/V | 3 YEAR | 3 YEA |

PRO-JECT (Interdyn)

| | | |
| --- | --- | --- |
| PRODUCT | NEW | REFURBISHED |
| Turntables | 2 YEAR | 6 MONTHS |

WHARFEDALE (AVR - Audio Visual Revolution)

| | |
| --- | --- |
| PRODUCT | NEW |
| Loudspeakers | 5 YEARS |
| Subwoofers | 3 YEARS |

QED (AVR - Audio Visual Revolution)

| | |
| --- | --- |
| PRODUCT | NEW |
| Cables | Lifetime |
| uPlay Plus Series | 1 YEAR |

KEF, REVEL, ELAC (Advanced Audio Australia)

PRODUCT

NEW

Speakers

5 YEARS

Passive Products eg. Speaker Components

1 YEAR

Electronics

NOTE: Subwoofers contain passive elements and active electronic elements

What is and is not covered?

This Warranty covers all defects in workmanship for the duration of the product warranty and is additional to the protection offered by law.

All labour and materials are covered under this warranty, provided the repairs are carried out by an authorised service centre.

This warranty does not cover damage caused by accident, negligence, misuse, abuse, improper operation, fluctuations in electrical current, damage from unauthorised repairs other than those repairs carried out by an authorised service centre.

Any product where the serial number has been removed, modified or defaced are not covered by this warranty.

Freight and removal/installation costs are not covered by this warranty.

Units may not include operating manuals & accessories. Quality of the cosmetic finish is also excluded from warranties, including chassis, panels, cabinet, buttons and knobs.

What you must do to obtain Warranty Service

Should your equipment require warranty service, it must be delivered to an authorised service center, complete with your purchase receipt.

Click on Supplier/Manufacturer below for details on technical support and where to find your authorised, local service center. Alternatively you can contact Excel Hi-Fi on (03) 9702 3399 or at sales@excelhifi.com.au for any assistance you may require.

Amber Technology

In making a claim under this warranty, you agree that if, following receipt of your claim under this warranty, the dealer or its authorised service centre determine that your claim in respect of a product is invalid or you have provided false, inaccurate or misleading information with your claim, the dealer or its authorised service centre may charge you for any labour, parts or transport costs incurred.

Warranty on this product is not applicable outside of the country of purchase.
---
Specially designed for custom integration of whole home audio systems, the "AMP" serves as a companion amplifier for the Yamaha XDA-QS5400RK to expand speaker coverage and/or increase power output. It may also be used to expand secondary zone speaker coverage for Yamaha AV receivers that have Zone pre outs.
Works together with Yamaha XDA-QS5400RK to expand speaker coverage in custom integrated multi-room audio systems
Eight channels of audiophile-grade Class D amplification, bridgeable and 4-ohm capable, featuring a unique ground loop/hum-free circuit design
Four audio buses and included jumpers allow for wide variety of speaker configurations
Interlocks power on/off with XDA-QS5400RK via Trigger I/O
Integration-friendly features include audio sensing inputs, IR I/O and more
1U high, rack-wide enclosure; removable rack ears and faceplate included
The Perfect Whole Home Audio Companion
Sonic Soul Mates
The XDA-AMP5400RK – the "AMP" – was conceived as a companion to the Yamaha XDA-QS5400RK as a way to provide additional speaker coverage and/or additional speaker output power in a custom integrated multi-room home audio system. It also pairs nicely with Yamaha AV receivers that offer Zone pre outs.
Slim Yet Powerful
The AMP packs eight channels of audiophile-grade amplification into a remarkably-slim 1U-high enclosure, allowing you to fully optimise your valuable rack real estate.
Phenomenal Flexibility
Feed up to four sources from QS pre outs into the AMP – its four audio I/O buses can be patched together to handle a wide array of speaker/zone configurations. The AMP comes with a set of jumper plugs and cables, making it ultra-versatile right out of the box. The audio outs can alternatively be used to connect powered subwoofers or subwoofer amps.

More Power on Demand
Each of the four amplifier zones is also bridgeable, giving you the option to increase power output to select speakers if needed.
Engineered to Sound Extraordinary
Audiophile-Grade Amplification
The AMP employs ultra-efficient ICEpower integrated circuits to deliver eight channels of pristine, musically-dynamic digital amplification 50 watts/channel (8 ohms) with an outstanding 5 Hz to 40 kHz (+0/-3 dB) frequency response and 108 dB signal-to-noise ratio. It is 4 ohm capable at 100 watts/channel and bridgeable to 200 watts/channel (8 ohms).
Goodbye Ground Loop Hum
The curse of the custom integrator: ground loop hum, a common and vexing side effect of connecting a bunch of electronics together in a rack. The AMP takes care of it with a brilliantly-engineered differential circuit design. Sometimes it's what you don't hear that sounds the most amazing.
High-Performance under the Hood
The AMP employs a balanced audio circuit design and PML capacitors, which are also used in our flagship AVENTAGE AV separates. The result: greater realism and expressiveness for all of your favourite music.
Versatile Installation
Mount it in a rack with the included ears or remove the ears for shelf installations. The included magnetic faceplate discourages tampering and provides the perfect cosmetic finish.
Harmonious Control
When a QS and AMP are used together, simply wire the trigger ports to automatically power on/off the desired amplifier zones – no additional control interface is needed. The AMP also works great as a companion to an AVENTAGE AV receiver. When using the AMP with other sources, audio sensing inputs and an infrared I/O provide additional control flexibility.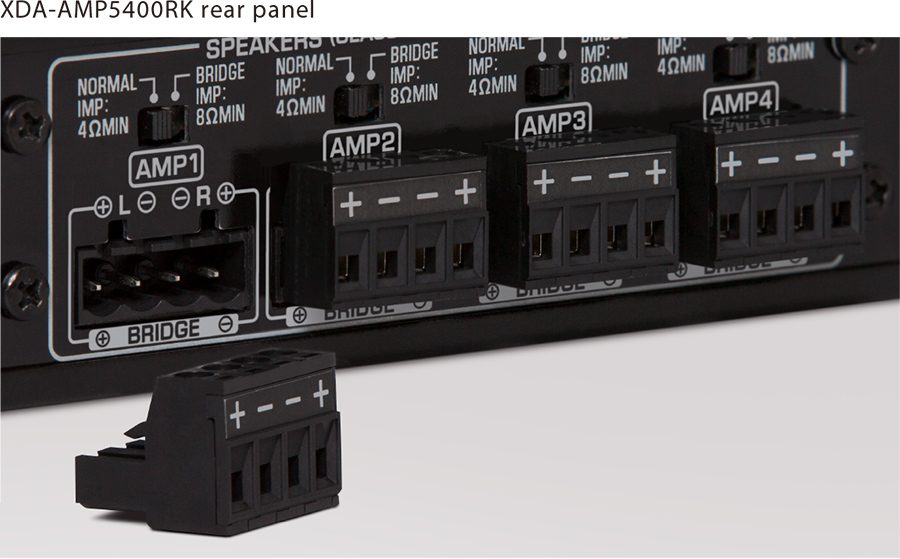 Custom-Friendly Connectivity
The AMP is truly made for custom integration, with Euroblock-style speaker connectors and a detachable AC cable for smart connectivity.