Warranty

Purchasing from an Authorised dealer like Excel Hi-Fi, means you are purchasing more than just a great product, you are purchasing peace of mind. This ensures you, the customer, are being sold genuine products from dealers that understand those products.

All of our product is designed and manufactured to the highest standard to ensure quality and audio reproduction so that your purchase provides you with many years of enjoyment. To ensure you get the best from your product, please read the owners manual before you switch it on.

Should you have any problems within the warranty period, please contact the appropriate dealer or Excel Hi-Fi for your nearest authorised service center for tech support.

Brands & Product Categories

All our product comes with Australia Wide Manufacturer's Warranty as per the terms and conditions of the supplier. Please be aware that LIMITED WARRANTY is offered on refurbished/re-packaged stock.

YAMAHA AUSTRALIA

PRODUCT

NEW

REFURBISHED

AV Receivers, Speaker & Subwoofers, Hi-Fi Components, Blu-Ray Players

2 YEARS

1 YEAR

Aventage Receivers

4 YEARS

2 YEARS

AV Accessories

1 YEAR

6 MONTHS

ONKYO

| | | |
| --- | --- | --- |
| PRODUCT | NEW | REFURBISHED |
| All A/V | 3 YEAR | 3 YEA |

PRO-JECT (Interdyn)

| | | |
| --- | --- | --- |
| PRODUCT | NEW | REFURBISHED |
| Turntables | 2 YEAR | 6 MONTHS |

WHARFEDALE (AVR - Audio Visual Revolution)

| | |
| --- | --- |
| PRODUCT | NEW |
| Loudspeakers | 5 YEARS |
| Subwoofers | 3 YEARS |

QED (AVR - Audio Visual Revolution)

| | |
| --- | --- |
| PRODUCT | NEW |
| Cables | Lifetime |
| uPlay Plus Series | 1 YEAR |

KEF, REVEL, ELAC (Advanced Audio Australia)

PRODUCT

NEW

Speakers

5 YEARS

Passive Products eg. Speaker Components

1 YEAR

Electronics

NOTE: Subwoofers contain passive elements and active electronic elements

What is and is not covered?

This Warranty covers all defects in workmanship for the duration of the product warranty and is additional to the protection offered by law.

All labour and materials are covered under this warranty, provided the repairs are carried out by an authorised service centre.

This warranty does not cover damage caused by accident, negligence, misuse, abuse, improper operation, fluctuations in electrical current, damage from unauthorised repairs other than those repairs carried out by an authorised service centre.

Any product where the serial number has been removed, modified or defaced are not covered by this warranty.

Freight and removal/installation costs are not covered by this warranty.

Units may not include operating manuals & accessories. Quality of the cosmetic finish is also excluded from warranties, including chassis, panels, cabinet, buttons and knobs.

What you must do to obtain Warranty Service

Should your equipment require warranty service, it must be delivered to an authorised service center, complete with your purchase receipt.

Click on Supplier/Manufacturer below for details on technical support and where to find your authorised, local service center. Alternatively you can contact Excel Hi-Fi on (03) 9702 3399 or at sales@excelhifi.com.au for any assistance you may require.

Amber Technology

In making a claim under this warranty, you agree that if, following receipt of your claim under this warranty, the dealer or its authorised service centre determine that your claim in respect of a product is invalid or you have provided false, inaccurate or misleading information with your claim, the dealer or its authorised service centre may charge you for any labour, parts or transport costs incurred.

Warranty on this product is not applicable outside of the country of purchase.

Explore Every Dimension
Dolby Atmos® and DTS:X™
Compatibility with these amazing sound technologies transports you from an ordinary moment into an extraordinary experience. They deliver breathtakingly rich and realistic surround sound, positioning and moving individual sounds to any virtual point in your room, including objects moving overhead. Experience the overwhelming realistic movement and immersion in videos — right in your home theatre room.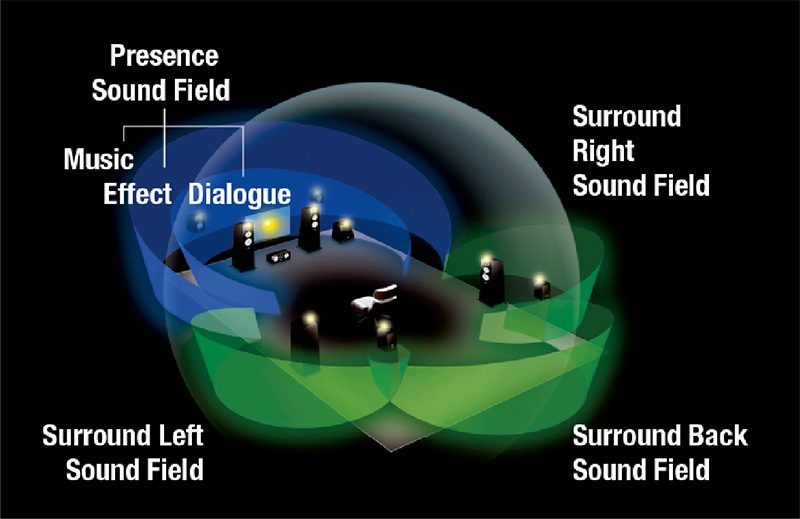 Immerse Yourself in the Sound
CINEMA DSP 3D
This unique Yamaha proprietary sound field creation technology, was created by combining measured sound field data with digital signal processing. Yamaha collected sound field data from famous concert halls and music clubs around the world, utilising its wealth of experience in the fields of concert hall design, public address and mixing. By digitizing that vast trove of information and incorporating it into dedicated LSI devices, it effectively reproduces the spaces of those concert halls on home equipment. Immerse yourself in the astounding realism of your movies, and enter a world of profound theatre sound.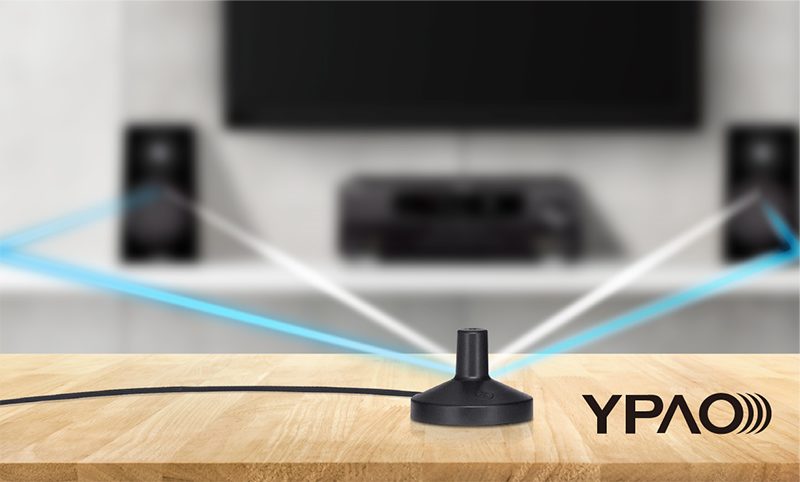 Professional-grade Sound Optimisation
YPAO™-R.S.C. (Reflected Sound Control)
YPAO-R.S.C. analyses room acoustics and measures various speaker characteristics, then calibrates audio parameters to achieve optimum sound. It employs Reflected Sound Control to correct early reflections and deliver studio-quality sound. It also provides DSP Effect Normalisation, which varies the CINEMA DSP parameters according to the reflected sounds. It's like having a professional installer calibrate your system, creating an ideal listening space with perfectly balanced sound.
Optimum Performance
High-quality Parts
Yamaha AV receivers feature fully discrete power amplifiers to minimise distortion and adopt independent pure power supplies for the analogue and digital circuitry. They also feature ultra-high performance with 384 kHz / 32-bit DACs, also with Independent power supplies, for reproducing absolutely all the audio in High Resolution sound sources without noise. A new high sound quality IC is employed for volume control and large heat sinks suppress vibration. Down to every detail, these AV receivers are designed with full emphasis on the highest possible sound quality.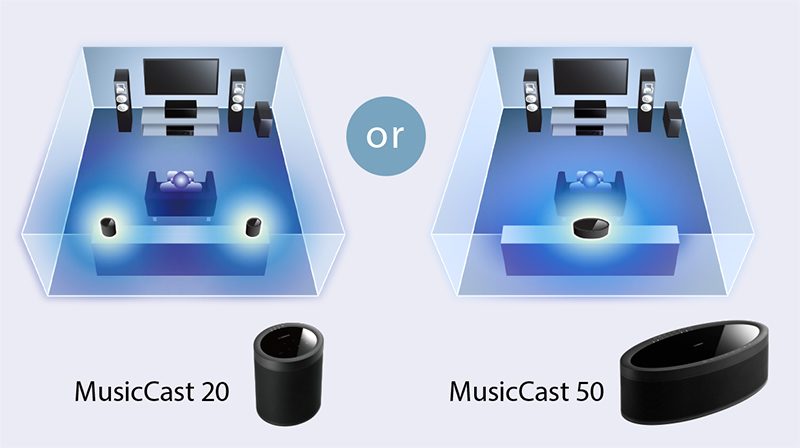 Free and Easy Placement
Wireless Surround Speakers
Combine this AV receiver with the MusicCast 50 or MusicCast 20 wireless streaming speaker and enjoy the amazing convenience of creating a home theatre with wireless rear speakers. What's more, you get stunningly realistic sound with a clean, clutter-free setup. Easily turn your current living room into a special entertainment environment where you can fully enjoy movies and music.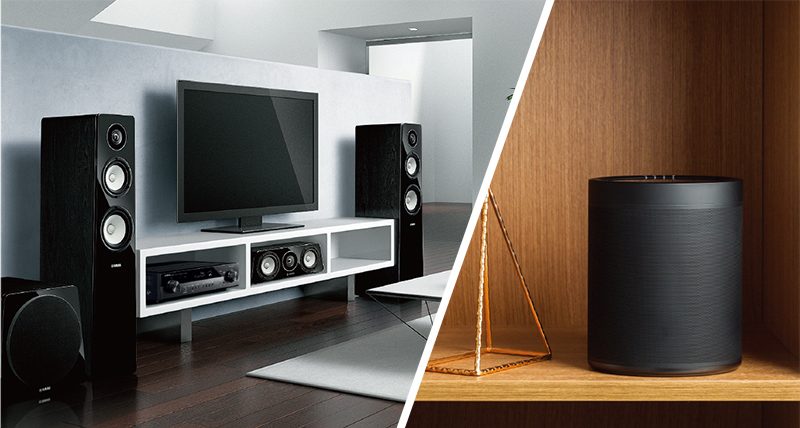 Multi-room Audio
MusicCast
MusicCast takes the headache out of multi-room audio. Simply connect all MusicCast devices to the same network and start sharing audio throughout the home. Take MusicCast for a test drive by downloading the free MusicCast app and using its demo mode.
A World of Music
Streaming Services
Explore a world of music with music streaming services* built-in. Syncing your playlists and song likes from your smart phone or computer to the RX-V685, music streaming services make it impossibly easy to either listen to your faves or discover new music.
* Music streaming service availability varies by region.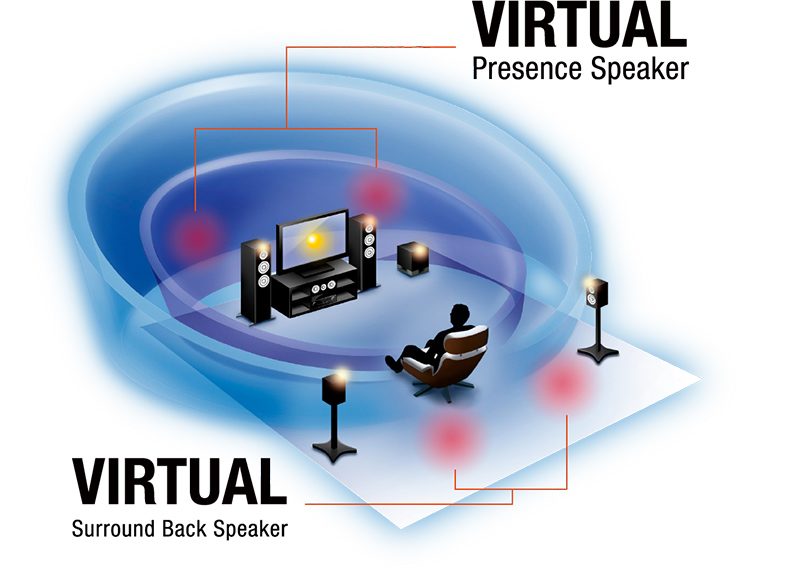 Easily Experience 9.1-channel Realism
Virtual Speaker Technology
With the power of CINEMA DSP 3D, the Virtual Presence Speaker function makes full use of centre and surround speakers to create audible information from where presence (height) speakers are normally installed. In addition, this model also features a Virtual Surround Back Speaker function. Even without using surround back speakers, you can experience more natural surround sound thanks to CINEMA DSP 3D playback — giving you the virtual equivalent of up to 9.1-channel surround, even with a 5.1-speaker configuration.
* Dolby Atmos and DTS: X signals cannot be used with these virtual features.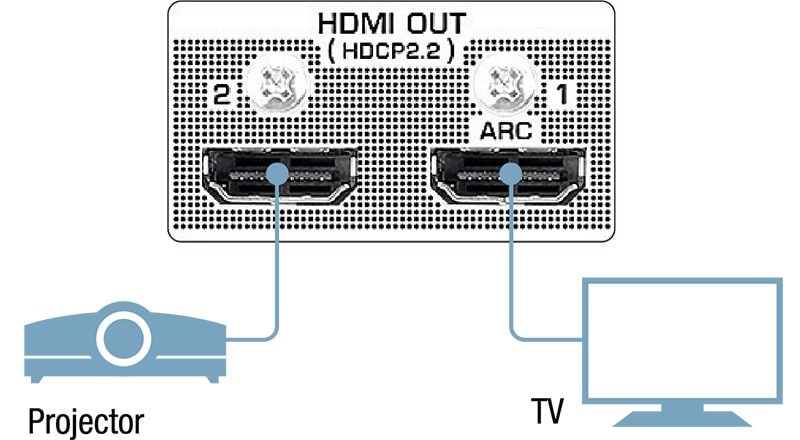 Convenient Enjoyment
Two HDMI Outputs
Since the RX-V685 has two HDMI output terminals, simultaneous connection to the TV and LCD projector is possible. Which means you can use your TV as usual but use the projector for your favourite movies and special programming — easily and without having to change any connections. The built-in HDMI functionality is of the latest specifications, corresponding also to HDR (Dolby Vision Compatible, Hybrid Log-Gamma), 4K / 60p passthrough & 4K upscaling, and so on.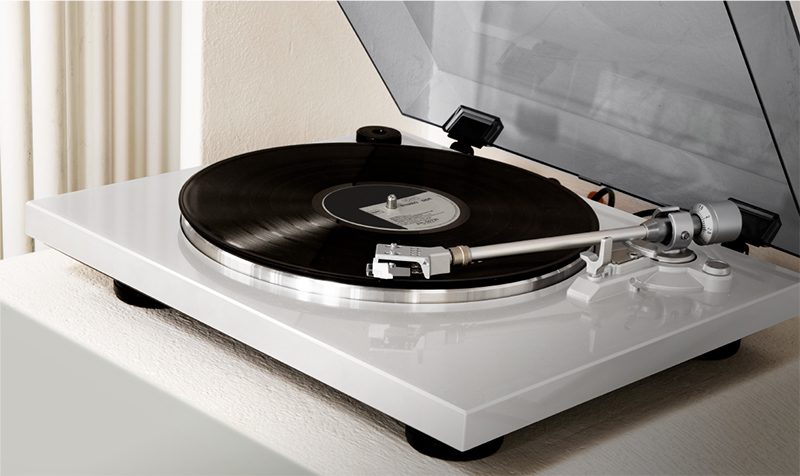 The Joys of Vintage Vinyl
Phono Input
This AV receiver provides phono input terminals, letting you connect a turntable and enjoy music from your vinyl collection.

Let's Talk
Alexa on MusicCast
"Alexa, ask MusicCast to play Favourite 1 in the Kitchen." With Alexa voice control integration, all you have to do is ask. The RX-V685 name offers full compatibility with Amazon's range of voice control devices. Welcome to the smart home.
* Availability of voice command control via Amazon Alexa varies by region.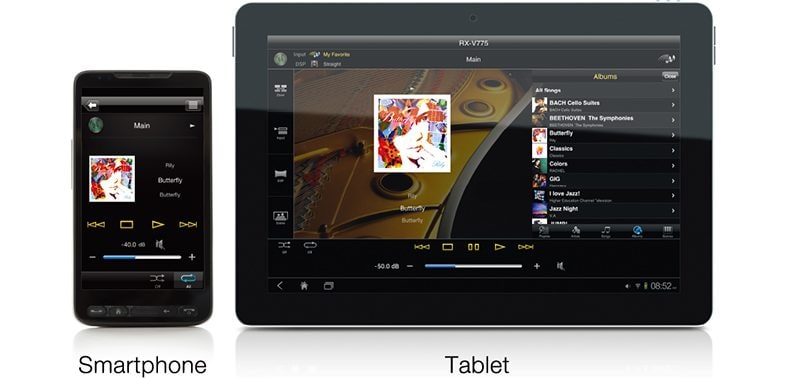 Easy Operation, Detailed Settings
AV Controller App
This easy-to-use app lets you conveniently and 'smartly' control your AV receiver's power, volume, input selections, DSP modes — and much, much more — from an iOS or Android™ device. You can also use as many as 23 different languages and customise the interface by hiding unused icons and renaming functions. A tablet version is also available.
Easy to Use and Multilingual
Advanced Graphical User Interface
The latest graphical user interface from Yamaha has a high-resolution display with clear, easy-to-use menus and includes a selectable status bar that shows input source, volume level, DSP mode and audio format. The GUI provides a choice of eight languages: English, French, German, Spanish, Italian, Russian, Japanese and Chinese and can be displayed over both normal and 3D pictures.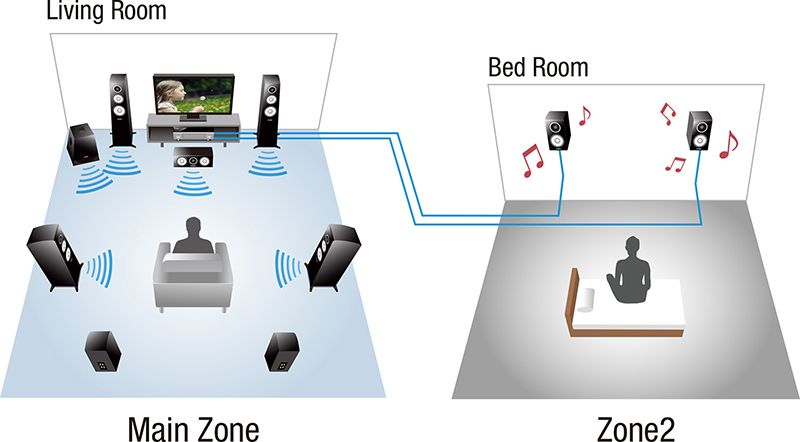 Enjoy in Two Rooms
Multi-zone Function (Zone2)
Featuring Zone2 compatible speaker terminals, this system can send the same (or even different) AV contents playing in the main room for playing in another room. For example, if you've got speakers installed in your bedroom or kitchen, you can go to that other room and enjoy listening to the same or different main room content.
Even Higher Quality Sound
Bi-amp Connection
This AV receiver features bi-amping capability, driving the treble and bass ranges of the front speakers (L, R) with independent amplifiers, making it possible to enjoy even higher quality sound from the front channels — an important consideration in home theatre setups.
Brilliant and Lively
Music Enhancer
The Compressed Music Enhancer from Yamaha is now optimised for Bluetooth audio transmissions to ensure that your music will have vivid, energetic sound quality during wireless playback.
Install with Ease
AV Setup Guide
This special app assists you with cable connections between the AV receiver and source devices. Additionally, it guides you through various settings such as speaker connections, TV and source device connections and power amplifier assignments.
Save Energy by 20%
Eco Mode
When ECO Mode is turned on it can reduce power consumption by about 20 percent*, thanks to an advanced energy saving design. *Compared to power consumption when ECO mode is off (Yamaha measurement).