Warranty

Purchasing from an Authorised dealer like Excel Hi-Fi, means you are purchasing more than just a great product, you are purchasing peace of mind. This ensures you, the customer, are being sold genuine products from dealers that understand those products.

All of our product is designed and manufactured to the highest standard to ensure quality and audio reproduction so that your purchase provides you with many years of enjoyment. To ensure you get the best from your product, please read the owners manual before you switch it on.

Should you have any problems within the warranty period, please contact the appropriate dealer or Excel Hi-Fi for your nearest authorised service center for tech support.

Brands & Product Categories

All our product comes with Australia Wide Manufacturer's Warranty as per the terms and conditions of the supplier. Please be aware that LIMITED WARRANTY is offered on refurbished/re-packaged stock.

YAMAHA AUSTRALIA

PRODUCT

NEW

REFURBISHED

AV Receivers, Speaker & Subwoofers, Hi-Fi Components, Blu-Ray Players

2 YEARS

1 YEAR

Aventage Receivers

4 YEARS

2 YEARS

AV Accessories

1 YEAR

6 MONTHS

ONKYO

| | | |
| --- | --- | --- |
| PRODUCT | NEW | REFURBISHED |
| All A/V | 3 YEAR | 3 YEA |

PRO-JECT (Interdyn)

| | | |
| --- | --- | --- |
| PRODUCT | NEW | REFURBISHED |
| Turntables | 2 YEAR | 6 MONTHS |

WHARFEDALE (AVR - Audio Visual Revolution)

| | |
| --- | --- |
| PRODUCT | NEW |
| Loudspeakers | 5 YEARS |
| Subwoofers | 3 YEARS |

QED (AVR - Audio Visual Revolution)

| | |
| --- | --- |
| PRODUCT | NEW |
| Cables | Lifetime |
| uPlay Plus Series | 1 YEAR |

KEF, REVEL, ELAC (Advanced Audio Australia)

PRODUCT

NEW

Speakers

5 YEARS

Passive Products eg. Speaker Components

1 YEAR

Electronics

NOTE: Subwoofers contain passive elements and active electronic elements

What is and is not covered?

This Warranty covers all defects in workmanship for the duration of the product warranty and is additional to the protection offered by law.

All labour and materials are covered under this warranty, provided the repairs are carried out by an authorised service centre.

This warranty does not cover damage caused by accident, negligence, misuse, abuse, improper operation, fluctuations in electrical current, damage from unauthorised repairs other than those repairs carried out by an authorised service centre.

Any product where the serial number has been removed, modified or defaced are not covered by this warranty.

Freight and removal/installation costs are not covered by this warranty.

Units may not include operating manuals & accessories. Quality of the cosmetic finish is also excluded from warranties, including chassis, panels, cabinet, buttons and knobs.

What you must do to obtain Warranty Service

Should your equipment require warranty service, it must be delivered to an authorised service center, complete with your purchase receipt.

Click on Supplier/Manufacturer below for details on technical support and where to find your authorised, local service center. Alternatively you can contact Excel Hi-Fi on (03) 9702 3399 or at sales@excelhifi.com.au for any assistance you may require.

Amber Technology

In making a claim under this warranty, you agree that if, following receipt of your claim under this warranty, the dealer or its authorised service centre determine that your claim in respect of a product is invalid or you have provided false, inaccurate or misleading information with your claim, the dealer or its authorised service centre may charge you for any labour, parts or transport costs incurred.

Warranty on this product is not applicable outside of the country of purchase.
All You Need for Playback of Any Music Source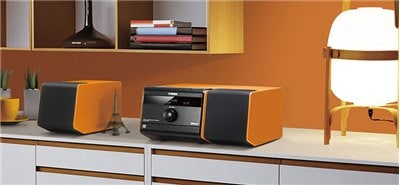 Enjoy wireless playback from your smartphone, tablet or PC effortlessly with Bluetooth® technology. In addition to the CD player, USB and FM/AM* radio, it has an AUX-In terminal for connecting a PC or Digital Audio Player, giving you music enjoyment from a variety of sources in one unit. An onboard USB port allows you to charge your smartphone or tablet too.
*USA model only
Large-diameter Speaker for Full Bass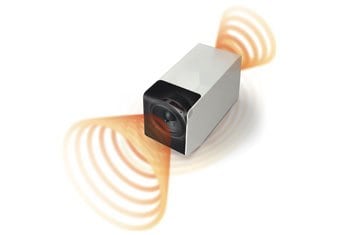 The speakers feature a 10cm (3-7/8") drive unit that employs a large-diameter magnet for enjoying music with rich bass tones and clear mid and high ranges. Bass sound is deep and robust, thanks to a large-volume cabinet that acts like a bass drum.
Personalized Design and Color Variation

The front-panel floats effortlessly into view. Designed to relieve pressure on the user, the MCR-B020 fits naturally into any living or private space. The color lineup includes chic black, stylish twotoned orange and white—choose one that matches your style and interior design.