Warranty

Purchasing from an Authorised dealer like Excel Hi-Fi, means you are purchasing more than just a great product, you are purchasing peace of mind. This ensures you, the customer, are being sold genuine products from dealers that understand those products.

All of our product is designed and manufactured to the highest standard to ensure quality and audio reproduction so that your purchase provides you with many years of enjoyment. To ensure you get the best from your product, please read the owners manual before you switch it on.

Should you have any problems within the warranty period, please contact the appropriate dealer or Excel Hi-Fi for your nearest authorised service center for tech support.

Brands & Product Categories

All our product comes with Australia Wide Manufacturer's Warranty as per the terms and conditions of the supplier. Please be aware that LIMITED WARRANTY is offered on refurbished/re-packaged stock.

YAMAHA AUSTRALIA

PRODUCT

NEW

REFURBISHED

AV Receivers, Speaker & Subwoofers, Hi-Fi Components, Blu-Ray Players

2 YEARS

1 YEAR

Aventage Receivers

4 YEARS

2 YEARS

AV Accessories

1 YEAR

6 MONTHS

ONKYO

| | | |
| --- | --- | --- |
| PRODUCT | NEW | REFURBISHED |
| All A/V | 3 YEAR | 3 YEA |

PRO-JECT (Interdyn)

| | | |
| --- | --- | --- |
| PRODUCT | NEW | REFURBISHED |
| Turntables | 2 YEAR | 6 MONTHS |

WHARFEDALE (AVR - Audio Visual Revolution)

| | |
| --- | --- |
| PRODUCT | NEW |
| Loudspeakers | 5 YEARS |
| Subwoofers | 3 YEARS |

QED (AVR - Audio Visual Revolution)

| | |
| --- | --- |
| PRODUCT | NEW |
| Cables | Lifetime |
| uPlay Plus Series | 1 YEAR |

KEF, REVEL, ELAC (Advanced Audio Australia)

PRODUCT

NEW

Speakers

5 YEARS

Passive Products eg. Speaker Components

1 YEAR

Electronics

NOTE: Subwoofers contain passive elements and active electronic elements

What is and is not covered?

This Warranty covers all defects in workmanship for the duration of the product warranty and is additional to the protection offered by law.

All labour and materials are covered under this warranty, provided the repairs are carried out by an authorised service centre.

This warranty does not cover damage caused by accident, negligence, misuse, abuse, improper operation, fluctuations in electrical current, damage from unauthorised repairs other than those repairs carried out by an authorised service centre.

Any product where the serial number has been removed, modified or defaced are not covered by this warranty.

Freight and removal/installation costs are not covered by this warranty.

Units may not include operating manuals & accessories. Quality of the cosmetic finish is also excluded from warranties, including chassis, panels, cabinet, buttons and knobs.

What you must do to obtain Warranty Service

Should your equipment require warranty service, it must be delivered to an authorised service center, complete with your purchase receipt.

Click on Supplier/Manufacturer below for details on technical support and where to find your authorised, local service center. Alternatively you can contact Excel Hi-Fi on (03) 9702 3399 or at sales@excelhifi.com.au for any assistance you may require.

Amber Technology

In making a claim under this warranty, you agree that if, following receipt of your claim under this warranty, the dealer or its authorised service centre determine that your claim in respect of a product is invalid or you have provided false, inaccurate or misleading information with your claim, the dealer or its authorised service centre may charge you for any labour, parts or transport costs incurred.

Warranty on this product is not applicable outside of the country of purchase.
MusicCast
MusicCast is a new revolution in network audio, use all your MusicCast products together or separately, it's completely up to you. Control it, all from one app, designed to be intuitive, quick and simple to use. Use a soundbar, a wireless speaker, an AV Receiver, Hi-Fi audio whichever suits you best, mix and match then expand your MusicCast system as time goes on. All new from Yamaha, the MusicCast system brings everything to everywhere for everyone.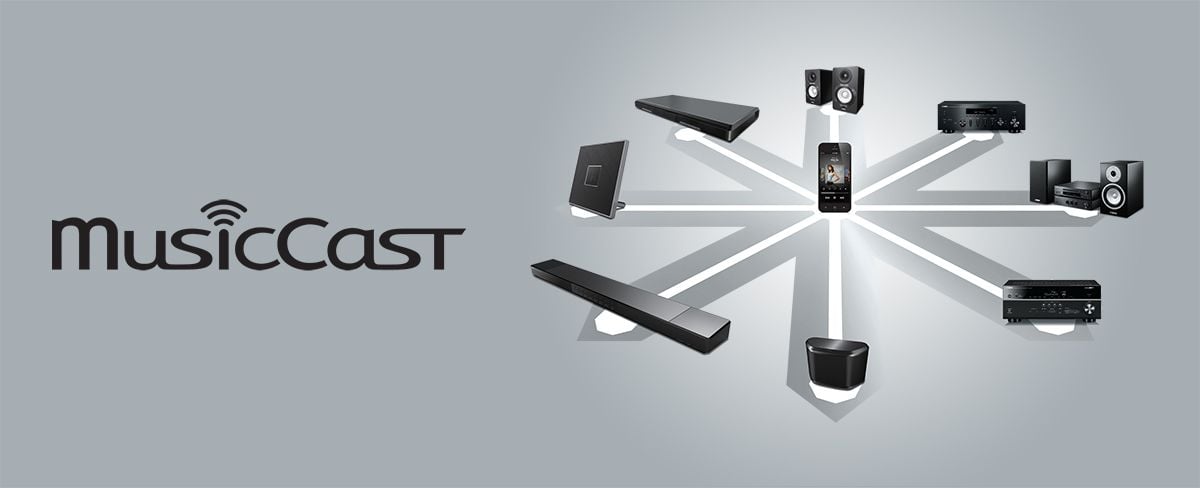 MusicCast Expands Entertainment Possibilities
MusicCast employs a high performance wireless network to deliver music and audio enjoyment. It can stream digital music content from your smartphone, PC or NAS to other MusicCast devices in your home. It can also share the music from external devices such as a TV or Blu-ray Disc™ player connected to the RX-V483. Audio content from Bluetooth®-connected smartphones or tablets can also be streamed to MusicCast devices in multiple rooms.

Bluetooth®-Compatible for Wireless Music Streaming
This AV receiver is equipped with Bluetooth functionality to let you enjoy easy wireless music playback from smartphones and other devices. The Compressed Music Enhancer from Yamaha is now optimised for Bluetooth audio transmissions to ensure that your music will have vivid, lively sound quality during wireless playback.

Bluetooth Output for Convenient Music Streaming
The HTR-4071 is equipped with the latest Bluetooth technology, making wireless operation more convenient than ever. You can stream music from the HTR-4071 to Bluetooth headphones for private listening or to Bluetooth speakers.

4K Ultra HD Full Support with 4K / 60p, HDCP2.2, HDR Video Including Dolby Vision and Hybrid Log-Gamma, and BT.2020 Pass-through
This AV receiver supports the latest HDMI standards. Thanks to transmission of 4K video at 60 frames per second pass-through, you can fully enjoy the high definition video quality of 4K without degradation. It also adheres to the HDCP2.2 copyright protection standard for 4K video transmission. It also supports HDR (High Dynamic Range) Video including Dolby Vision and Hybrid Log-Gamma which provides incredible contrast, smooth tone and rich, bright colours. Furthermore it supports the wider colour gamut of BT.2020 pass-through. This AV receiver is also compatible with 3D, Audio Return Channel and CEC for easy operation.
*Dolby Vision and Hybrid Log-Gamma will be available via future firmware update.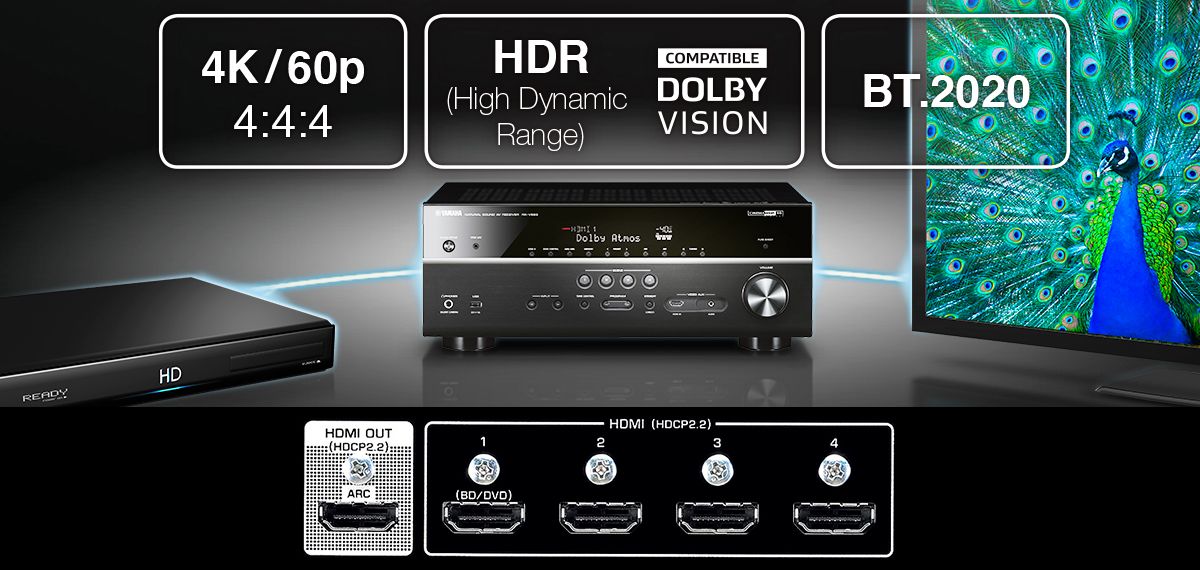 Wi-Fi Built-in and Wireless Direct Compatible for Easy Network
Wi-Fi Built-in capability allows wireless connection with your household wireless router, greatly simplifying system connections to enjoy network audio and music streaming services. If no Wi-Fi router is available, the unique Wireless Direct feature not only allows you to stream music directly from your smartphone or tablet via AV Controller App's Music Play feature, iOS's AirPlay® etc, but also control your receiver using the AV Controller app.

Network Functions
This AV receiver provides a variety of network functions that enable you to access more sources and also enhance operation. You can connect the receiver to your home network or internet to enjoy Internet Radio, Spotify*, Tidal*, Deezer* or music stored on a NAS and home PC. The AV Controller app (from iTunes® App Store or Google play) lets you control various functions from your iPod®, iPhone®, iPad® or Android™ phones / tablets.
*Music service availability varies by region.

AV Controller App for Easy, Convenient Operation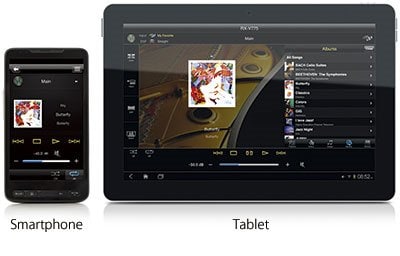 This AV receiver lets you use the Yamaha AV Controller app that is downloadable from the iTunes App Store or Google Play to control power on / off and volume, select input and DSP modes and operate other functions from an iPhone or Android devices. You can also use in as many as 23 different languages and customise the interface by hiding unused icons and renaming functions. A tablet version is also available.
DSP Parameter Adjustment for Easy and Detailed Setting
This AV receiver is equipped with a variety of sound programmes that utilise Yamaha's original DSP technology. They allow you to easily create sound fields like actual movie theatres or concert halls in your room and enjoy natural stereoscopic sound fields. Now you can use the AV Controller app to adjust DSP parameters to your preference to match the type of music / movie or the mood you want to achieve. There are two modes, Basic and Advanced, that you can choose according to the type of adjustments you want to make.

AirPlay Allows Streaming Music to AV receiver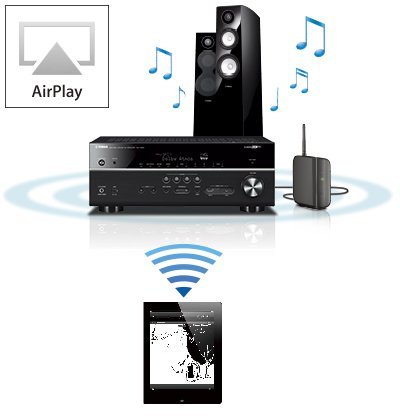 This AV receiver supports AirPlay, which means they can accept wireless music streaming from iPod touch®, iPhone® or iPad®, as well as from iTunes on Macs or PCs. This makes it easy to enjoy music from your mobile devices or computer on your home theatre system. You can use view metadata such as song title, artist name as well as album art* via AV receiver's on-screen display.
*Some models don't support album art display.
Stream Millions of Songs with Spotify Connect
With the Spotify app on your smartphone, you've got instant access to millions of songs. And now you can stream those songs to your Yamaha system by using Spotify Connect. Just hit play to start streaming music. What's more, when you've been listening on your smartphone outside and come inside, the song immediately streams to your AVR—like magic, you enjoy uninterrupted music. You can also personalise playlists and receive phone calls while listening to music.
*Spotify service availability depends on regions.
Extensive Audio Codec and Format Support

This AV receiver is compatible with many audio formats such as Dolby® True HD and DTS-HD Master Audio. It is also compatible with high resolution audio codec such as DSD / AIFF / FLAC / WAV / Apple Lossless. You will enjoy excellent sound quality of various high resolution audio codec from USB and network content.
Gapless Playback Compatibility Allows Play without Interruption*

Many live and classical albums have no gaps in the music. Gapless playback ensures that there are no pauses between audio files. This provides playback with no interruptions, the way it was meant to be heard.
*Compatible with WAV, FLAC and ALAC file formats, and input from USB / PC / NAS.
Total Purity Concept for the Finest Sound Quality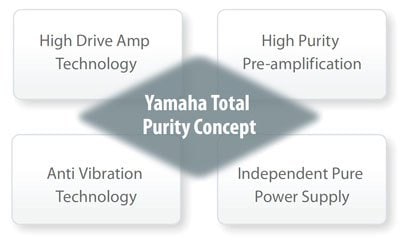 The Total Purity Concept, which Yamaha has been cultivating for many years, encompasses high drive amp technology, high purity pre-amplification, anti-vibration technology and independent pure power supplies. All models have a fully discrete power amplifier that helps to minimise distortion. They also adopt independent pure power supplies, allowing dedicated power supplies for the analogue and digital circuitry to prevent digital noise from affecting analogue circuitry. The anti-vibration heatsinks are designed to suppress vibration from transistors and sound pressure. Independent power supplies for the DACs are designed to further eliminate noise on certain models. Down to every detail, these AV receivers are designed with full emphasis on the highest possible sound quality.
Discrete Amp Configuration for High Sound Quality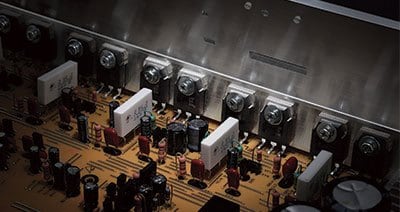 This AV receiver was designed with a strong focus on achieving exceptionally high sound clarity. It employs a discrete amp configuration and a low jitter PLL circuit, which contribute to its excellent audio performance.
AV Setup Guide App Makes System Setup Easier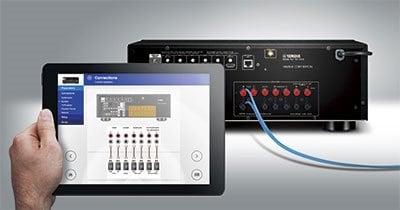 AV Setup Guide is an app that makes it much easier to perform receiver setup, and also assists you with cable connections between the AV receiver and source devices. It guides you through various settings such as speaker connections, TV and source device connections and power amp assignment. System illustrations and actual AV receiver images help you understand how to make the connections between devices, for much quicker system setup. It is available in multiple languages. Designed for iOS and Android tablet.
SCENE for One-Touch Start

Pressing a SCENE button powers on the AV receiver and selects the input source and DSP mode. You can re-set the buttons for different sources by selecting a source and DSP mode, then pressing a SCENE button for more than three seconds.
YPAO™ Sound Optimisation for Automatic Speaker Setup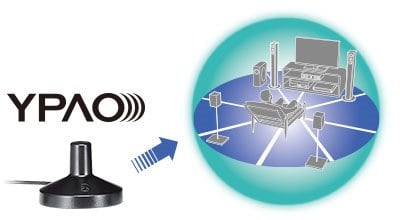 YPAO analyses the room acoustics and adjusts various audio parameters for optimum sound in just a few minutes. It's like having a professional installer calibrate your system.
HD Audio with CINEMA DSP 3D and Virtual Presence Speaker
CINEMA DSP 3D provides a wide, high and dense sound field. HD Audio format decoding lets you enjoy HD Audio sources. Virtual Presence Speaker delivers 3-dimensional sound without actual use of presence speakers.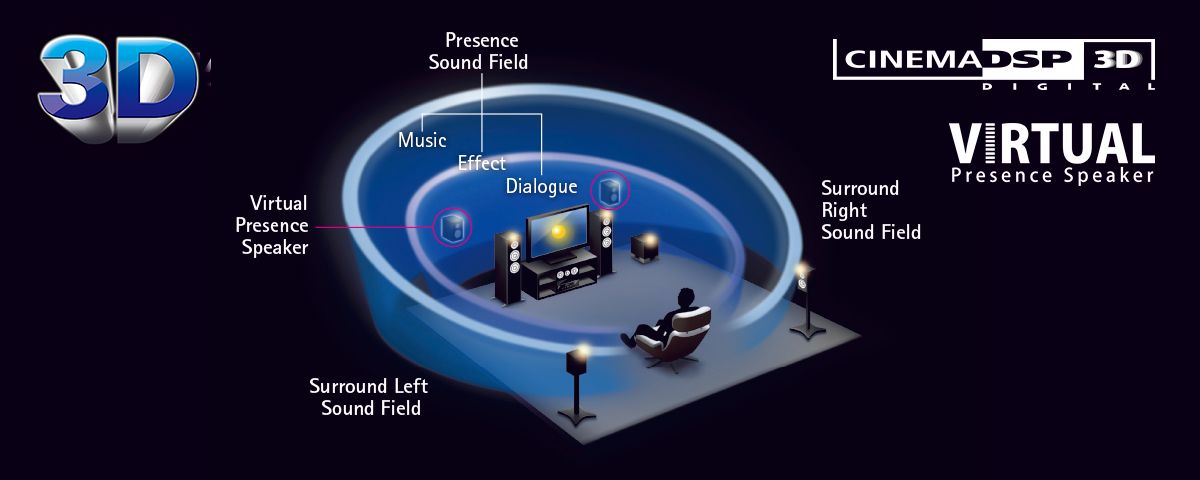 Virtual CINEMA FRONT Provides Virtual 5-channel Surround Sound with High Quality and Resolution
Even when it is impossible to install surround speakers behind the listening position, Virtual CINEMA DSP reproduces virtual 5-channel surround sound filled with realism, with only two front speakers. With Virtual CINEMA FRONT, you will enjoy virtual 5-channel surround sound with higher quality and resolution by installing surround speakers at the front. You get more flexibility to arrange your speakers inside the room, along with easy enjoyment of high quality surround sound.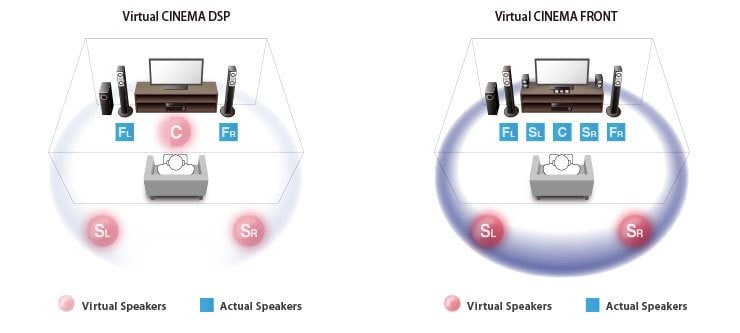 Zone B output Provides 2-channel Sound in a Second Room
Zone B output capability allows the receiver to send 2-channel sound to a second zone, so the main zone now has 3-channel output. This means that users can enjoy stereo sound in a second room. The same source will play in both zones (cannot use two sources).

Extra Bass Provides Rich Bass Reproduction, Even with Small Speakers
Yamaha' s exclusive low-range enhancement technology delivers richer bass than you expect from the speaker size while maintaining good localisation and sound balance even with compact front speakers. When a subwoofer is used, it improves the volume of the entire low range of the speaker system, not only the front speakers, but also enhancing the bass from the subwoofer. You'll enjoy video and music with sound that has exceptional power and presence.

Subwoofer Trim for Improved Sound Imaging
The Subwoofer Trim control enhances the low frequencies by avoiding overlap with the front speaker output. This will result in a cleaner, more focused sound stage while providing a seamless frequency response. When subwoofer frequency overlap occurs in conventional systems, the overall sound is "pushed" toward the subwoofer. Subwoofer Trim takes care of this by separating the low subwoofer frequencies cleanly, thus stabilising the front stage while providing a well-balanced enhanced bass sound.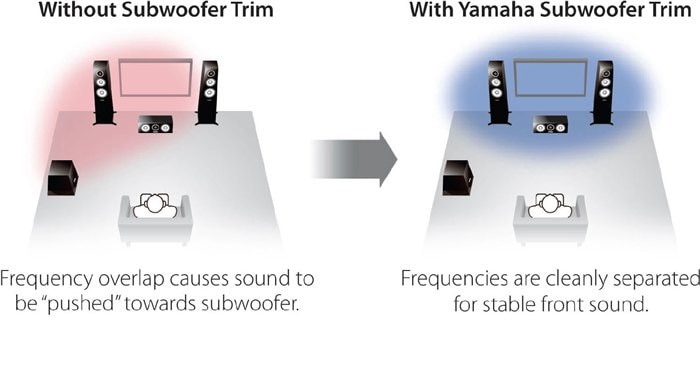 ECO mode Lowers Power Consumption by 20%*
Yamaha's new ECO mode reduces power consumption by about 20%. It can be set from the top of the GUI menu.
*Compared to power consumption when ECO mode is off (Yamaha measurement).
Selectable Auto Power Standby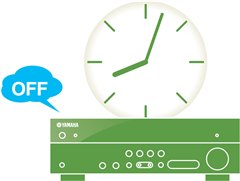 Auto Power Standby lets you save energy by selecting to turn off the power after 20 minutes, 2, 4, 8 or 12 hours.
Yamaha Eco-Product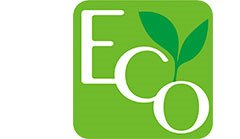 With an advanced energy saving design, this AV receiver achieves a low power consumption of not more than two watts when in Network Standby mode.
Amplifier Section
Channel
5.1
Rated Output Power (1kHz, 1ch driven)
100 W (6ohms, 0.9% THD)
Rated Output Power (20Hz-20kHz, 2ch driven)
70 W (6ohms, 0.09% THD)
Maximum Effective Output Power (1kHz, 1ch driven) (JEITA)
135 W (6ohms, 10% THD)
Dynamic Power per Channel (8/6/4/2 ohms)
- / 110 / 130 / 150 W
Surround Sound Processing
CINEMA DSP
Yes
DSP Programs
17
SILENT CINEMA / Virtual CINEMA DSP
Yes (Virtual CINEMA FRONT)
Dolby Digital Plus
Yes
Audio Features
Compressed Music Enhancer
Yes
Adaptive DRC (Dynamic Range Control)
Yes
Initial Volume & Maximum Volume Setting
Yes
Audio Delay
Yes (0-500 ms)
192kHz/24-bit DACs for all channels
Yes (Burr-Brown)
Video Features
4K Ultra HD Pass-through
Yes
HDMI 3D passthrough
Yes
HDMI Audio Return Channel
Yes
Deep Colour/x.v.Colour/24Hz Refresh Rate /Auto Lip-Sync
Yes
Connectivity
HDMI Input/Output
4 / 1
HDMI CEC
Yes
Digital Audio Input/Output: Optical
1 / 0
Digital Audio Input/Output: Coaxial
2 / 0
Analog Audio Input/Output
2 / 0
Preout
SW
Headphone Output
1
Tuner Section
FM/AM Tuner
Yes (only FM)
User Interface
On-screen display
Yes
SCENE
SCENE (4 sets)
Remote Control Unit
Yes
General
Standby Power Consumption (IR only)
≤0.3W
Auto Power Standby
Yes
ECO mode
Yes
Dimensions (W x H x D)
435 x 151 x 315 mm; 17-1/8" x 6" x 12-3/8"
Weight
7.4 kg; 16.3 lbs.