Warranty

Purchasing from an Authorised dealer like Excel Hi-Fi, means you are purchasing more than just a great product, you are purchasing peace of mind. This ensures you, the customer, are being sold genuine products from dealers that understand those products.

All of our product is designed and manufactured to the highest standard to ensure quality and audio reproduction so that your purchase provides you with many years of enjoyment. To ensure you get the best from your product, please read the owners manual before you switch it on.

Should you have any problems within the warranty period, please contact the appropriate dealer or Excel Hi-Fi for your nearest authorised service center for tech support.

Brands & Product Categories

All our product comes with Australia Wide Manufacturer's Warranty as per the terms and conditions of the supplier. Please be aware that LIMITED WARRANTY is offered on refurbished/re-packaged stock.

YAMAHA AUSTRALIA

PRODUCT

NEW

REFURBISHED

AV Receivers, Speaker & Subwoofers, Hi-Fi Components, Blu-Ray Players

2 YEARS

1 YEAR

Aventage Receivers

4 YEARS

2 YEARS

AV Accessories

1 YEAR

6 MONTHS

ONKYO

| | | |
| --- | --- | --- |
| PRODUCT | NEW | REFURBISHED |
| All A/V | 3 YEAR | 3 YEA |

PRO-JECT (Interdyn)

| | | |
| --- | --- | --- |
| PRODUCT | NEW | REFURBISHED |
| Turntables | 2 YEAR | 6 MONTHS |

WHARFEDALE (AVR - Audio Visual Revolution)

| | |
| --- | --- |
| PRODUCT | NEW |
| Loudspeakers | 5 YEARS |
| Subwoofers | 3 YEARS |

QED (AVR - Audio Visual Revolution)

| | |
| --- | --- |
| PRODUCT | NEW |
| Cables | Lifetime |
| uPlay Plus Series | 1 YEAR |

KEF, REVEL, ELAC (Advanced Audio Australia)

PRODUCT

NEW

Speakers

5 YEARS

Passive Products eg. Speaker Components

1 YEAR

Electronics

NOTE: Subwoofers contain passive elements and active electronic elements

What is and is not covered?

This Warranty covers all defects in workmanship for the duration of the product warranty and is additional to the protection offered by law.

All labour and materials are covered under this warranty, provided the repairs are carried out by an authorised service centre.

This warranty does not cover damage caused by accident, negligence, misuse, abuse, improper operation, fluctuations in electrical current, damage from unauthorised repairs other than those repairs carried out by an authorised service centre.

Any product where the serial number has been removed, modified or defaced are not covered by this warranty.

Freight and removal/installation costs are not covered by this warranty.

Units may not include operating manuals & accessories. Quality of the cosmetic finish is also excluded from warranties, including chassis, panels, cabinet, buttons and knobs.

What you must do to obtain Warranty Service

Should your equipment require warranty service, it must be delivered to an authorised service center, complete with your purchase receipt.

Click on Supplier/Manufacturer below for details on technical support and where to find your authorised, local service center. Alternatively you can contact Excel Hi-Fi on (03) 9702 3399 or at sales@excelhifi.com.au for any assistance you may require.

Amber Technology

In making a claim under this warranty, you agree that if, following receipt of your claim under this warranty, the dealer or its authorised service centre determine that your claim in respect of a product is invalid or you have provided false, inaccurate or misleading information with your claim, the dealer or its authorised service centre may charge you for any labour, parts or transport costs incurred.

Warranty on this product is not applicable outside of the country of purchase.
High performance floor-standing speaker delivers optimum sound with superior expressiveness for movies and music.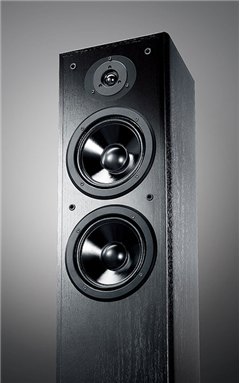 The NS-F51 features a two-way, three-speaker configuration consisting of two 16cm (6-1/2") cone woofers and one 3cm (1") soft dome tweeter. It takes advantage of a 97cm (38-3/8")-tall, large-capacity cabinet to produce thrilling bass tones, and with a bracing system to suppress cabinet resonance it also produces crystal-clear treble tones. The wooden circuit board in the network circuit demonstrates the commitment to sound quality. Not only for movies, but also for various other sources like CDs, MP3 and streaming music, you'll enjoy music with superior expressiveness.
Low-diffraction rounded form for clear sound free of murkiness.
Speaker cabinets are rounded to reduce the diffraction effects that cause murky sound. Experience crystal-clear natural sound that you won't tire of no matter how long you listen.
A front grille and rounded form with luxurious, upscale design
Enjoy a sense of luxury with a front grille featuring slanted corners and a design that brings to mind Yamaha's flagship speakers. And with the speaker cabinet also sporting a rounded shape, the unity of design will fit beautifully into your home theatre space.
Choice of two colours to help you create a high-quality home theatre.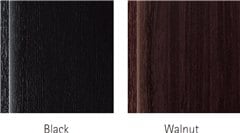 The speakers are beautifully finished and are available in a choice of two colours: the luxurious look of walnut, and stylish black. Together with the high-texture wood grain cabinet, these speakers will complement any TV monitor and interior.
| | |
| --- | --- |
| Type | 2-Way, 3-Speaker Bass-Reflex Floor-Standing Speaker System |
| Woofers | Dual 16cm cone |
| Tweeter | 3cm dome |
| Frequency Response | 35 Hz to 35 kHz |
| Nominal Input Power | 80 W |
| Maximum Input Power | 240 W |
| Sensitivity | 91 dB |
| Crossover Frequencies | 2 kHz |
| Impedance | 6 Ω |
| Dimensions (W x H x D) | 233 x 880 x 271 mm |
| Weight | 12.5 kg / unit |