Warranty

Purchasing from an Authorised dealer like Excel Hi-Fi, means you are purchasing more than just a great product, you are purchasing peace of mind. This ensures you, the customer, are being sold genuine products from dealers that understand those products.

All of our product is designed and manufactured to the highest standard to ensure quality and audio reproduction so that your purchase provides you with many years of enjoyment. To ensure you get the best from your product, please read the owners manual before you switch it on.

Should you have any problems within the warranty period, please contact the appropriate dealer or Excel Hi-Fi for your nearest authorised service center for tech support.

Brands & Product Categories

All our product comes with Australia Wide Manufacturer's Warranty as per the terms and conditions of the supplier. Please be aware that LIMITED WARRANTY is offered on refurbished/re-packaged stock.

YAMAHA AUSTRALIA

PRODUCT

NEW

REFURBISHED

AV Receivers, Speaker & Subwoofers, Hi-Fi Components, Blu-Ray Players

2 YEARS

1 YEAR

Aventage Receivers

4 YEARS

2 YEARS

AV Accessories

1 YEAR

6 MONTHS

ONKYO

| | | |
| --- | --- | --- |
| PRODUCT | NEW | REFURBISHED |
| All A/V | 3 YEAR | 3 YEA |

PRO-JECT (Interdyn)

| | | |
| --- | --- | --- |
| PRODUCT | NEW | REFURBISHED |
| Turntables | 2 YEAR | 6 MONTHS |

WHARFEDALE (AVR - Audio Visual Revolution)

| | |
| --- | --- |
| PRODUCT | NEW |
| Loudspeakers | 5 YEARS |
| Subwoofers | 3 YEARS |

QED (AVR - Audio Visual Revolution)

| | |
| --- | --- |
| PRODUCT | NEW |
| Cables | Lifetime |
| uPlay Plus Series | 1 YEAR |

KEF, REVEL, ELAC (Advanced Audio Australia)

PRODUCT

NEW

Speakers

5 YEARS

Passive Products eg. Speaker Components

1 YEAR

Electronics

NOTE: Subwoofers contain passive elements and active electronic elements

What is and is not covered?

This Warranty covers all defects in workmanship for the duration of the product warranty and is additional to the protection offered by law.

All labour and materials are covered under this warranty, provided the repairs are carried out by an authorised service centre.

This warranty does not cover damage caused by accident, negligence, misuse, abuse, improper operation, fluctuations in electrical current, damage from unauthorised repairs other than those repairs carried out by an authorised service centre.

Any product where the serial number has been removed, modified or defaced are not covered by this warranty.

Freight and removal/installation costs are not covered by this warranty.

Units may not include operating manuals & accessories. Quality of the cosmetic finish is also excluded from warranties, including chassis, panels, cabinet, buttons and knobs.

What you must do to obtain Warranty Service

Should your equipment require warranty service, it must be delivered to an authorised service center, complete with your purchase receipt.

Click on Supplier/Manufacturer below for details on technical support and where to find your authorised, local service center. Alternatively you can contact Excel Hi-Fi on (03) 9702 3399 or at sales@excelhifi.com.au for any assistance you may require.

Amber Technology

In making a claim under this warranty, you agree that if, following receipt of your claim under this warranty, the dealer or its authorised service centre determine that your claim in respect of a product is invalid or you have provided false, inaccurate or misleading information with your claim, the dealer or its authorised service centre may charge you for any labour, parts or transport costs incurred.

Warranty on this product is not applicable outside of the country of purchase.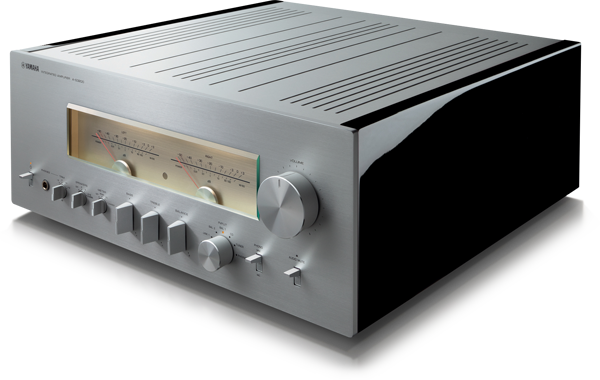 Music spawns from something emotional. A unique, personal story an artist wishes to share. Understanding how music is created, and indeed helping artists to create, embeds in Yamaha's DNA a fundamental understanding of music, particularly the emotion upon which music creation is inspired. In the development of each of our extensive range of Hi-Fi products, conveying this emotion to the listener is one of the most important considerations.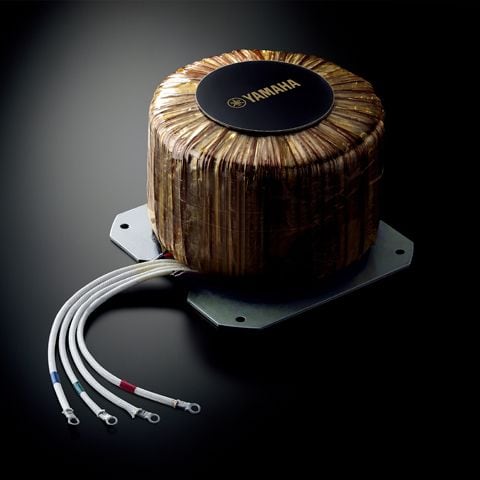 Toroidal Transformer
large toroidal transformer has been used in the A-S3200 in the pursuit of pure musicality. With less flux leakage there is no negative impact on other sensitive audio circuits, while the copper wire is directly drawn from the winded core, minimizing energy loss compared to other substitutes, allowing the full emotional energy in the music to be felt by the listener.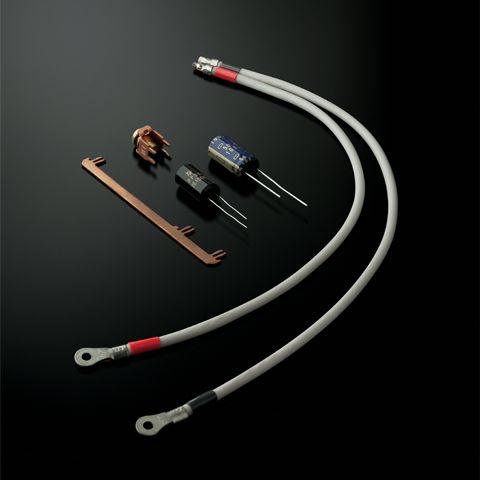 High Quality Component Selection
Acknowledged for their musical performance and use in high-end home audio products, high-quality capacitors were selected, delivering an authentically musical sound.
Following an intensive forging process, the PC-Triple C speaker wire has an inherently more linear structure, allowing for smoother signal transmission to more accurately present the original musical recording.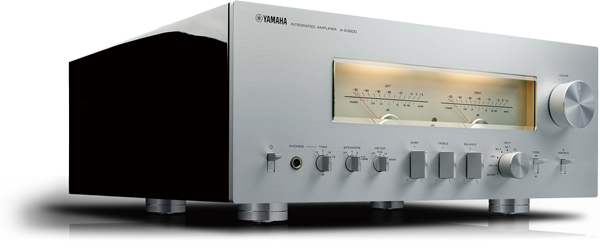 Authentic, pure Hi-Fi is less about listening to brilliant sounding equipment and more about that equipment disappearing and the artist performing live in the room. The openness of the music, that feeling of being within reach of the artist, brings the music to the fore, and makes listening to music an active rather than passive experience.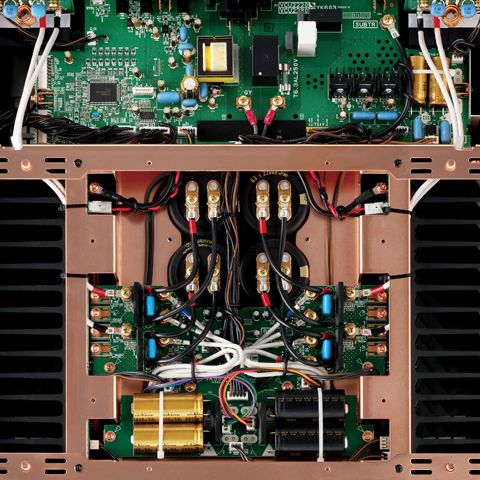 Thick Wires for Ground Connection by Low Impedance Concept
Adopting low impedance design concept minimizes both energy loss while maintaining absolute integrity in the audio signal. Preservation of the original audio results in an open, natural sound stage, bringing the listener and the artist together.
Following an intensive forging process, the PC-Triple C speaker wire has an inherently more linear structure, allowing for smoother signal transmission to more accurately present the original musical recording.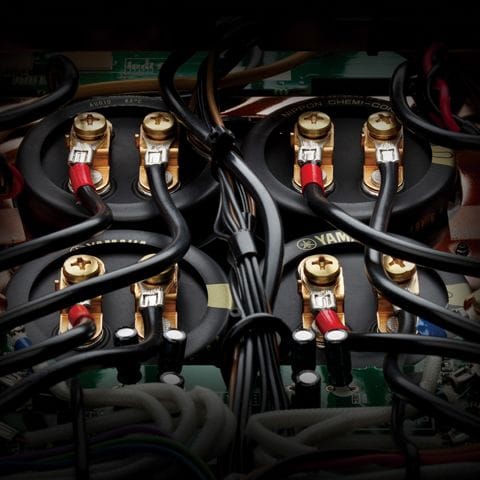 Brass Screws and Copper Terminal for Block Capacitor
Adopting brass screws and gilding oxygen free copper terminals for the large block capacitors contributes to superior connectivity, superbly delivering the additional headroom available in the four large 22,000μF capacitors to produce the open soundstage.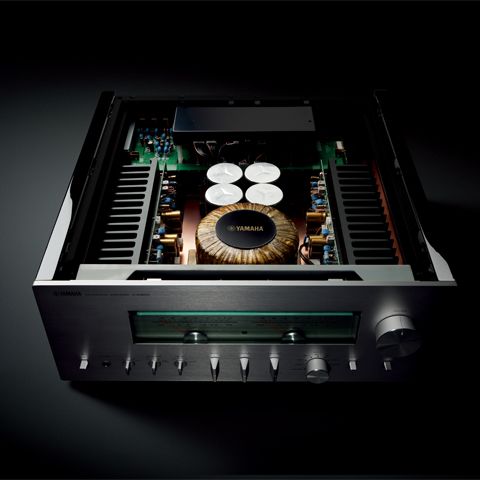 Fully Balanced Circuitry from Input to Speaker Out
The fully balanced circuitry used in the A-S3200 yields a number of listening benefits. Delivering impressively low signal-to-noise ratio ensures those gaps in the music, the silence upon which the artist engages the listener into the music, waiting for the next movement, are exactly that – silence. The design also adds to improved channel separation producing a sound stage that almost makes the entire system disappear, giving the listener the feeling of being in the room with the artist, not the CD or vinyl source.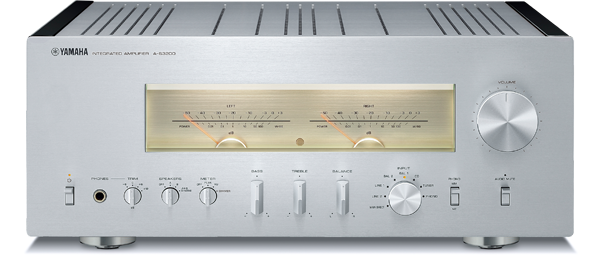 Feeling the music. Not just feeling like you are there, but feeling the story in the music. Feeling the rhythm, the groove of the music. Moving with the music. Only a true representation of the music can deliver this.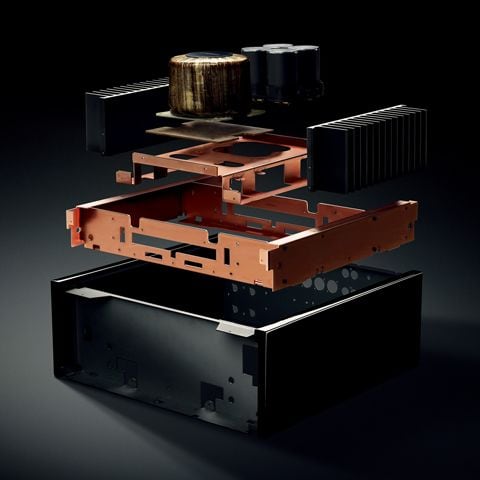 Mechanical Ground Concept
An expression of deep, rhythmic and melodious bass generates feeling from the music, the story of the music. The Mechanical Ground Concept achieves this expressive and rhythmic bass by maximising rigidity and reducing any unwanted vibration. The large power transformer, block capacitors and heat sink are directly bolted to the chassis delivering greater rigidity, while the feet, with bolts directly welded to the main chassis, provide further reinforcement for absolute rigidity. The A-S3200 has an original Rigid Streamlined Construction that further suppresses vibration.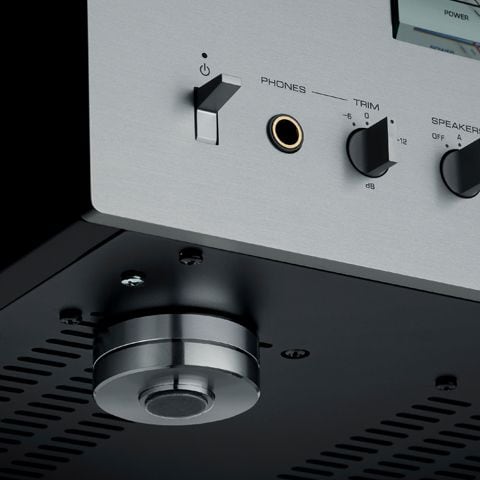 Silver Plating Brass Feet
Completing the rigidity of the amplifier are the heavy-duty brass feet used with either spikes or the scratch-resistant base for delicate surfaces, originally engineered exclusively for the flagship M/C-5000.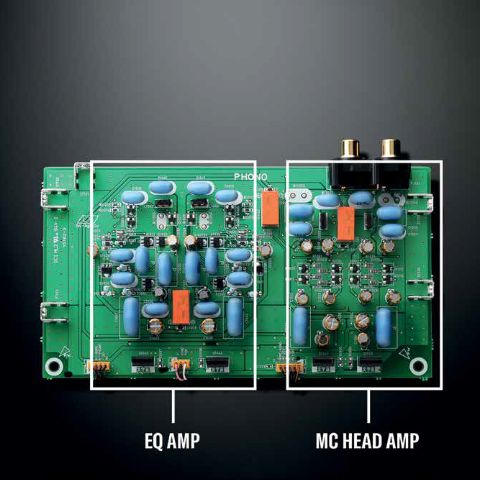 Dedicated phono amp
The phono amp is comprised of an MC head amp and an equalizer amp – each of which are discretely configured resulting in a rich sound with pronounced musicality when playing vinyl records with both MC and MM phono cartridges.
Original Speaker Terminals
The luxurious speaker terminals are cut directly from pure brass and achieve a highly secure connection, effortlessly allowing tightening by the human hand.
Use of the elegantly designed switches and knobs on the front panel present more than just input changes or volume adjustments. They serve as a connection between the owner and the engineer, a beautiful, highly-tactile surface reflecting the obsessive care of the engineers, passed directly to the owner.
Exquisite, Large Level Meters
Visually presenting the dynamics and pulse of the music, the large meters imbue a warm feeling through their softly illuminated LED's. With the glass window diagonally cut and precision-fit to the back surface of the front panel, therefore presenting no gaps or screws for connection, an exceptionally luxurious look and feel is achieved.
| | |
| --- | --- |
| Disc Compatibility | SA-CD, CD, CD-R/RW (MP3, WMA) and USB (Type B) |
| Output Level | 2 +/- 0.3 V (1 kHz, 0 dB) |
| Signal-to-Noise Ratio | 116 dB |
| Dynamic Range | [CD] 100 dB, [Super Audio CD] 110 dB |
| Harmonic Distortion | [CD] 0.002% (1 kHz), [Super Audio CD] 0.002% (1 kHz) |
| Frequency Response | [CD] 2 Hz-20 kHz, [Super Audio CD] 2 Hz-50 kHz (-3 dB) |
| Dimensions (W x H x D) | 435 x 137 x 438 mm; 17-1/8" x 5-3/8" x 17-1/4" |
| Weight | 15.6 kg; 35.2 lbs. |