Warranty

Purchasing from an Authorised dealer like Excel Hi-Fi, means you are purchasing more than just a great product, you are purchasing peace of mind. This ensures you, the customer, are being sold genuine products from dealers that understand those products.

All of our product is designed and manufactured to the highest standard to ensure quality and audio reproduction so that your purchase provides you with many years of enjoyment. To ensure you get the best from your product, please read the owners manual before you switch it on.

Should you have any problems within the warranty period, please contact the appropriate dealer or Excel Hi-Fi for your nearest authorised service center for tech support.

Brands & Product Categories

All our product comes with Australia Wide Manufacturer's Warranty as per the terms and conditions of the supplier. Please be aware that LIMITED WARRANTY is offered on refurbished/re-packaged stock.

YAMAHA AUSTRALIA

PRODUCT

NEW

REFURBISHED

AV Receivers, Speaker & Subwoofers, Hi-Fi Components, Blu-Ray Players

2 YEARS

1 YEAR

Aventage Receivers

4 YEARS

2 YEARS

AV Accessories

1 YEAR

6 MONTHS

ONKYO

| | | |
| --- | --- | --- |
| PRODUCT | NEW | REFURBISHED |
| All A/V | 3 YEAR | 3 YEA |

PRO-JECT (Interdyn)

| | | |
| --- | --- | --- |
| PRODUCT | NEW | REFURBISHED |
| Turntables | 2 YEAR | 6 MONTHS |

WHARFEDALE (AVR - Audio Visual Revolution)

| | |
| --- | --- |
| PRODUCT | NEW |
| Loudspeakers | 5 YEARS |
| Subwoofers | 3 YEARS |

QED (AVR - Audio Visual Revolution)

| | |
| --- | --- |
| PRODUCT | NEW |
| Cables | Lifetime |
| uPlay Plus Series | 1 YEAR |

KEF, REVEL, ELAC (Advanced Audio Australia)

PRODUCT

NEW

Speakers

5 YEARS

Passive Products eg. Speaker Components

1 YEAR

Electronics

NOTE: Subwoofers contain passive elements and active electronic elements

What is and is not covered?

This Warranty covers all defects in workmanship for the duration of the product warranty and is additional to the protection offered by law.

All labour and materials are covered under this warranty, provided the repairs are carried out by an authorised service centre.

This warranty does not cover damage caused by accident, negligence, misuse, abuse, improper operation, fluctuations in electrical current, damage from unauthorised repairs other than those repairs carried out by an authorised service centre.

Any product where the serial number has been removed, modified or defaced are not covered by this warranty.

Freight and removal/installation costs are not covered by this warranty.

Units may not include operating manuals & accessories. Quality of the cosmetic finish is also excluded from warranties, including chassis, panels, cabinet, buttons and knobs.

What you must do to obtain Warranty Service

Should your equipment require warranty service, it must be delivered to an authorised service center, complete with your purchase receipt.

Click on Supplier/Manufacturer below for details on technical support and where to find your authorised, local service center. Alternatively you can contact Excel Hi-Fi on (03) 9702 3399 or at sales@excelhifi.com.au for any assistance you may require.

Amber Technology

In making a claim under this warranty, you agree that if, following receipt of your claim under this warranty, the dealer or its authorised service centre determine that your claim in respect of a product is invalid or you have provided false, inaccurate or misleading information with your claim, the dealer or its authorised service centre may charge you for any labour, parts or transport costs incurred.

Warranty on this product is not applicable outside of the country of purchase.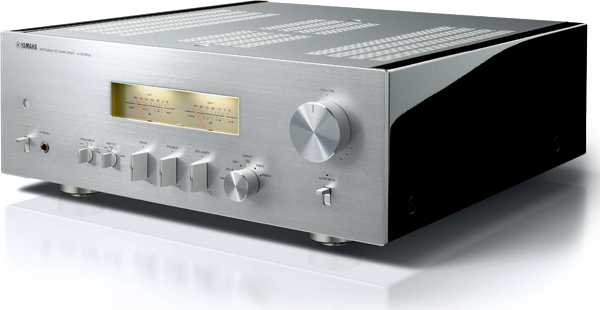 Understanding music is to understand the emotion upon which music is created. The passion and story behind the music that drives artists to create. With unmatched experience in every facet of music creation, embedded deep in Yamaha's DNA is an intimate understanding of the emotional essence of music and music creation. Conveying the artists' emotion through our Hi-Fi equipment is a fundamental component of Yamaha's design philosophy.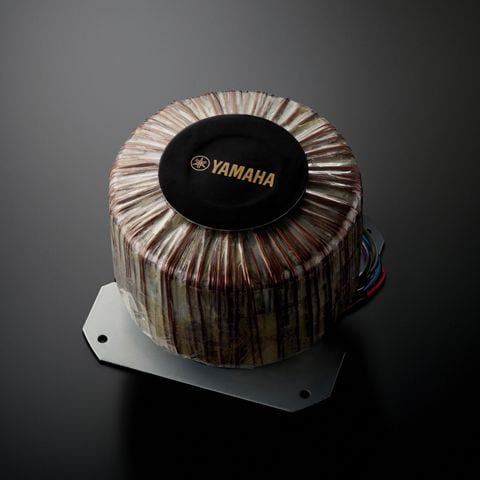 Toroidal Transformer
Usually reserved for flagship Hi-Fi components, the A-S1200 benefits from the technical proficiency and absolute musicality of a toroidal transformer. Combined with an array of high-end Hi-Fi features and components, the toroidal transformer assists in ensuring the musical emotion is conveyed to the listener.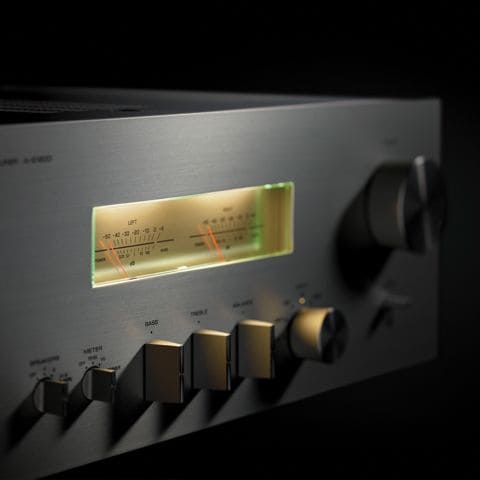 Gorgeous Level Meters
The level meters are both a nod to the nostalgic era of Hi-Fi, while simultaneously demonstrating the return of pure Hi-Fi for today's discerning enthusiast. Visually presenting the dynamics and pulse of the music, the level meters imbue a warm feeling through their softly illuminated LED's.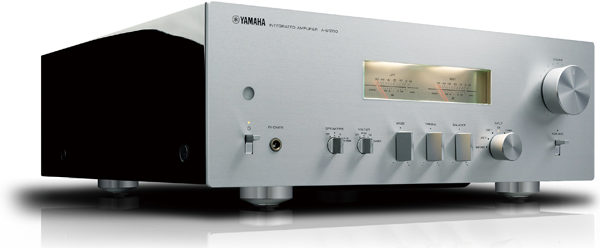 An open sound stage presents the listener with a musical experience that is similar to being at the live performance. True Hi-Fi delivers this openness in the sound, transforming the listeners' musical experience, bringing them closer to the artist.
Thick Wires for Ground Connection by Low Impedance Concept
Low Impedance concept, aided by the thick wires for ground connection, is critical for componentry adopting the badge of premium Hi-Fi. This design concept begins in Yamaha's premium Hi-Fi components with the A-S1200, helping to present an open, natural sound stage, bringing the artist and listener closer together.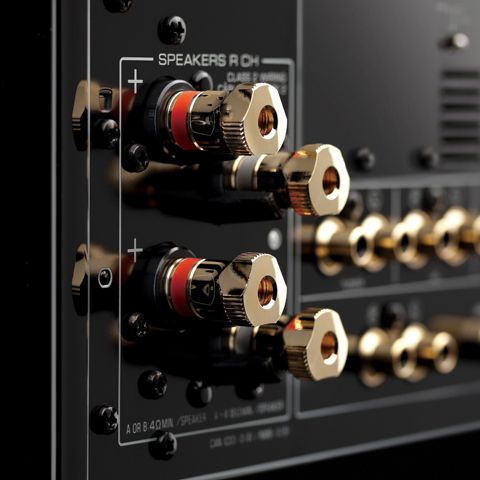 Original Speaker Terminals
Cut directly from pure brass, the luxurious speaker terminals comfortably fit the human hand for effortless tightening, achieving a highly secure connection.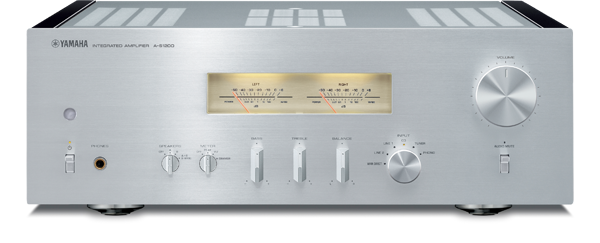 Connection with the music is achieved with the underlying groove and rhythm. A true representation of the music lets the listener feel the groove, and therefore not just hear the music but feel the story behind the music.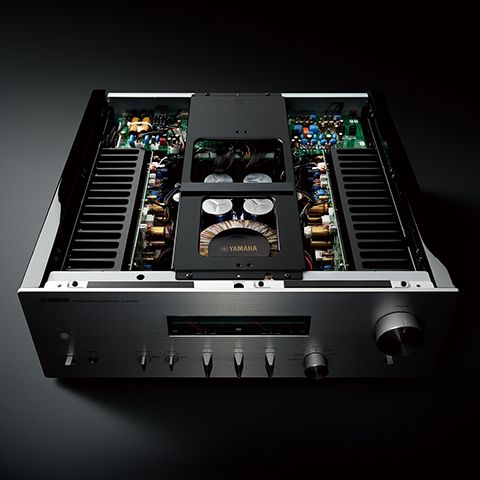 Mechanical Ground Concept
Warranting the 'Premium Hi-Fi' badge, the A-S1200 adopts a Mechanical Ground Concept, inherited from both the A-S2200 and A-S3200. The concept begins with the bolts of the feet welded directly to the main chassis, followed with the large heat sink, power transformer and block capacitors also directly bolted to the chassis. Through this design, unwanted vibration is avoided, achieving expressive and rhythmic bass, presenting the 'Groove' of the music to the listener.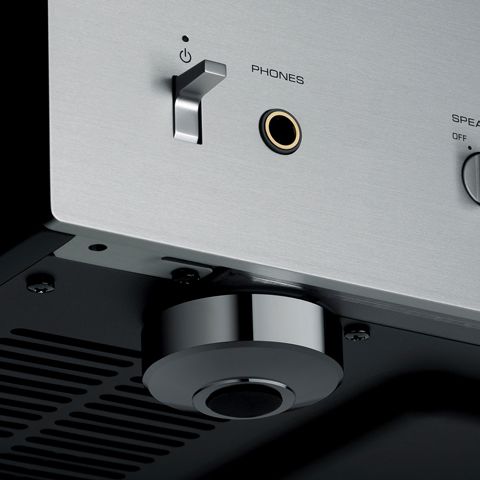 Silver Plating Feet
Completing the rigidity of the amplifier are the heavy-duty silver-plated metal feet.
| | |
| --- | --- |
| Disc Compatibility | SA-CD, CD, CD-R/RW (MP3, WMA) and USB (Type B) |
| Output Level | 2 +/- 0.3 V (1 kHz, 0 dB) |
| Signal-to-Noise Ratio | 116 dB |
| Dynamic Range | [CD] 100 dB, [Super Audio CD] 110 dB |
| Harmonic Distortion | [CD] 0.002% (1 kHz), [Super Audio CD] 0.002% (1 kHz) |
| Frequency Response | [CD] 2 Hz-20 kHz, [Super Audio CD] 2 Hz-50 kHz (-3 dB) |
| Dimensions (W x H x D) | 435 x 137 x 438 mm; 17-1/8" x 5-3/8" x 17-1/4" |
| Weight | 15.6 kg; 35.2 lbs. |